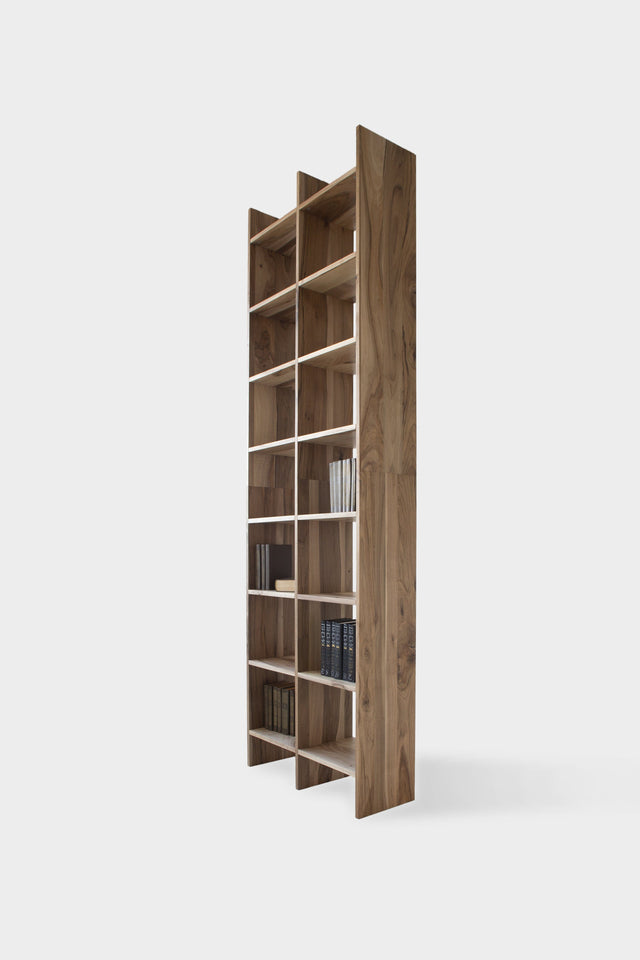 Description
Product Overview
Product FAQ
Product Description
Big, bold and beautiful, the Agata bookshelf is a contemporary shelving unit which is perfectly suited to modern homes and offices. Handcrafted from European walnut, Agata is bursting with character, thanks to its eye-catching design and the wood's knots and swirls. Agata also offers plenty of space, courtesy of 16 shelves. The bookshelf can be custom-made for a bespoke size and finish; contact us.
5 Year Guarantee
All of our furniture comes with a 5-year guarantee.

This covers the structural integrity of your furniture and all of its components, as well as covering against faults or defects from manufacturing. Under this guarantee, we will supply you with a new replacement part, partial refund or a complete new unit, depending on the nature of the claim.


Walnut Bookcase
Big, bold and beautiful, the Agata walnut bookcase is made from 2 cm thick European walnut that comes from sustainable forestry and is bursting with character. European walnut has a wonderful combination of unique knotholes and grains in the wood surface - this makes every walnut shelf truly unique. Read More
The walnut bookcase offers plenty of storage space in the 16 shelves. The walnut standing shelf is 260 cm high and can be used to subdivide open living areas and filled with decorative objects. Alternatively, the bookcase made of solid walnut wood can be placed on the wall and used functionally for books and files. Each shelf is 30 cm deep, which allows light to flow through the room while also providing a large amount of storage space. With a width of 80 cm, this walnut shelf fits well in the office, living room or kitchen - and makes a big statement in large or small rooms. The unit consists of two separate parts, which makes delivery easier, but can also be built as a unit if desired. The walnut shelf is then finished with a matt hard wax oil, although other matt and glossy surfaces are also available for this walnut shelf.
Read Less
Handcrafted Furniture
All pieces are handmade and variations in the wood characteristic are to be expected. Wood grain and colour vary from table to table as in from tree to tree. Read More
All of our wood is, when possible, locally sourced and sustainable, and every piece is custom made, by hand, in our workshop. We strive to create beautiful furniture that will enrich your everyday life and last for generations.
Read Less